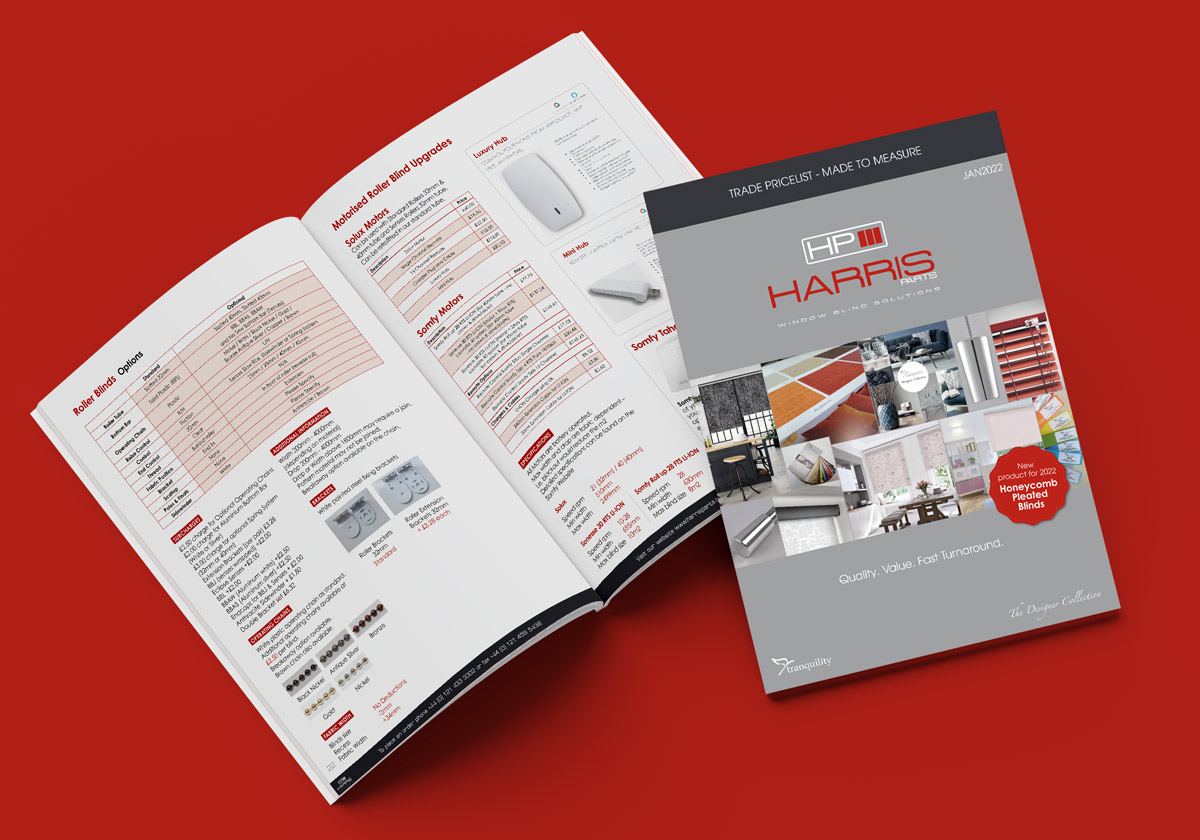 The new January 2022 price catalogue is out now. It's our biggest yet with new products added. Hard copies will be landing on door mats very soon.
The contents page has had a little move around to accommodate new products and is the go to for finding the what and the where.
Roller bandings have been updated to show the Designer and Plains fabrics available, and fabrics ranges and specifications have been grouped by fabric to make it easier to find the fabric you are looking for.
Page 17 shows all supplier fabrics we offer on our standard lead time. And have you spotted it yet? Yes, we can now manufacture in Louvolite fabrics as well as Style Studio, the Fabric Box and Aquarius.
We have introduced NEW flute pulls by 'Jones' to our hand-finishing range for Rollers … and page 23 shows the New Solux motor choice and home hubs, which are a more versatile motor. They retrofit into our Harris 32mm & 40mm tubes, and can be used on our pelmet facia system.

Skylight Roof Blinds pricing and colour choices can be found on page 25. This is a welcome addition to the Harris Parts product range.
Books and swatches have been updated for your reference on page 27 – so make sure you are up to date with your sampling.
Vertical blinds now include even larger widths available for manufacture on our wide shallow headrail, so look for the 'blue' end columns on the price table.

We listened to feedback, and now Slats only' for verticals has a simpler and easier pricing method for when you want to order by slat quantity only. Look for the green row at the top of each price table and match this to the drop for easier pricing.
And if you use the Eclipse venetian swatch, for clarity, we have added two new pages to collate in one easy index their colour names alphabetically next to our colour code. This should make things a lot simpler when ordering. (Excel spreadsheet version available on request)
Our Real and Faux Woods have also been updated - Introducing Everglade for even better value Real wood, and the Infusions range for Faux wood, combining three ranges into one swatch.
And the big one is the Honeycomb Pleated range we have introducted to 2022. Harris Parts are delighted to introduce a lovely range of fabrics to our bespoke made to measure products. Swatches will be available soon so watch this space!

We hope you like what you see -and welcome to the Harris Parts Trade Pricelist for 2022!